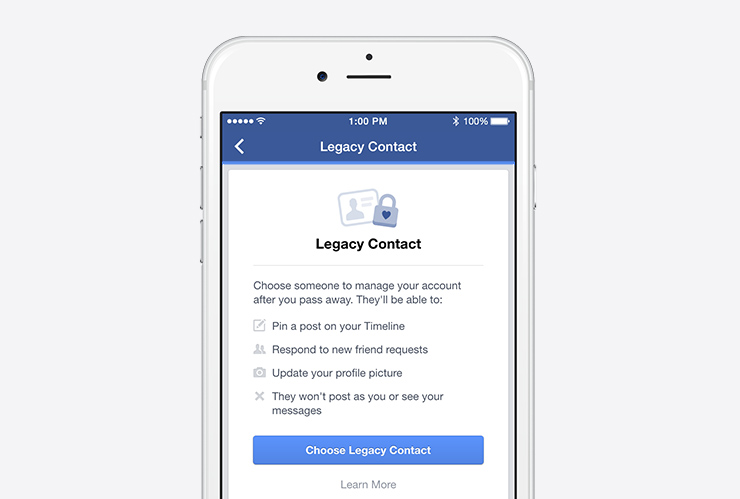 My Grandpa Joe died in 2012 at the age of 90, but before he passed he was able to figure out how to set up a Facebook account – no small feat for a man born before the invention of refrigerators, Ford's Model T and frozen food. So, you can imagine my surprise when my Facebook account suggested I might want to "Friend" my grandfather in 2014. While Friending a deceased individual seemed novel, I sensed that continuing our actual relationship was one of the few things beyond Facebook's ability to monitor. But while the law has slowly figured out that an Executor or Administrator of your estate is legally permitted to access your personal email and social media accounts, good luck getting to the right person in that site's Legal Department (who, coincidentally, has 3,000 items of their "To Do List" already and you are priority #3,001).
Now, to my surprise, Facebook allows you to name a "Legacy Contact" in your settings. This person has the ability to access your account so that once you pass away the account may be deactivated or modified to create a digital legacy of your lifetime, to last forever on the World Wide Web.
While I still have plenty to complain about regarding certain Facebook policies, I feel that they took a very responsible step in ensuring a deceased individual can have his or her account safeguarded from hackers and media hijackers, and have their memory adequately preserved. In addition, unlike having a Court name an Executor to your estate so that your social media can be accessed (and again, if you can even make any headway finding the right corporate employee there who cares), your Legacy Contact is instantly able to carry your wishes forward.
It is my hope that additional Social Media outlets accept this idea and not wait for Congress and the Courts to pass legislation and rule on laws regarding naming a virtual representative of your online persona.
To update your Legacy Contact on Facebook, just go to "Settings" then, "General" and finally "Manage Account"