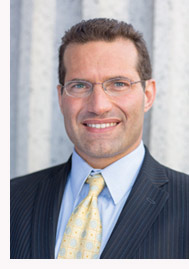 Daniel Timins is a graduate of Pace Law School in White Plains, and is a Certified Financial Planner®. He specializes in Estate Planning, Surrogate's Court proceedings, Real Estate Law, Commercial Law and Medicaid Planning.
As a former member of the New York City Bar Association's Trusts, Estates and Surrogate's Committee, Mr. Timins helped draft proposed state legislation for Insurable Interests of Life Insurance Trusts, New York Insurance Law Section 3205, and participated in submitting proposed legislation for the Revocatory Effects of Divorce, EPTL 5-1.4. He has taught continuing legal education classes at Pace Law School, has been a contributing author to several written works and educational programs, and was a recipient of the prestigious "40 Under 40 Rising Stars Award" by the Business Council of Westchester in 2009, and the 2010 Public Education Award from the National Multiple Sclerosis Society's New York City / Southern New York Chapter.
As of 2013 Mr. Timins is a Board Member of the Westchester County Bar Association and Co-Chair of its Continuing Legal Education Committee, as well as it alternate delegate for the New York State Bar Association's House of Delegates. He is a former member of the Nominating Committee for the Board of the Pace Law School Alumni Association, and a former Co-Chair of the Westchester County Bar Association's Membership and Member Benefits Committee. In addition, he is a member of the New York State Bar Associations' Estate Planning Committee, a former member of the American Bar Association and Justice Brandeis Westchester Law Society, and is a member of the Financial Planning Association's New York and Greater Hudson Valley chapters.
After graduating from Washington University in Saint Louis, he worked at the financial firms of Merrill Lynch, American Express Financial Advisors and Alliance Bernstein Investments. Mr. Timins was a former founding partner of Timins & Durante, LLP, Timins & LaMagna, LLP, and T&D Financial, LLC, a fee only financial planning and real estate consulting firm located in Scarsdale, New York.
Mr. Timins is licensed to practice law in the state of New York.