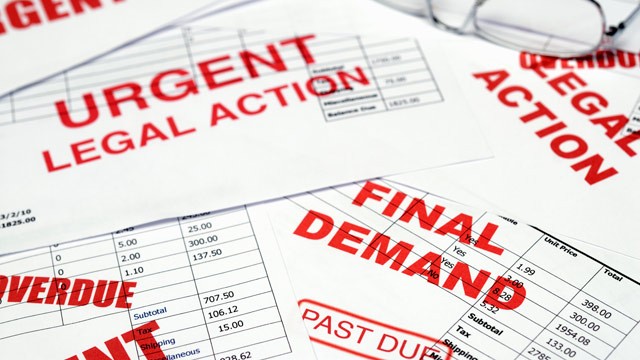 The weeks immediately following a family member's death is tense, emotional and stressful; many people rush to handle the departed person's affairs. This includes paying the deceased person's debts, since every credit card company comes out of the woodwork the moment the card is cancelled by the survivors. However, many family members pay these bills even though they had no responsibility to do so.
Here are 5 instances when you should NOT pay a deceased person's debts:
Retirement Plans: Remember that your retirement plans are protected from most creditors, including credit cards. If the decedent died with only retirement plan assets remaining in his name, tell this to the credit card company and don't pay them anything.
Life Insurance Policies: Likewise, life insurance policies are a promise for a life insurance company to pay money directly to a survivor when a person dies. Only if the decedent named his probate estate as a beneficiary would his survivors have to pay the credit card company. Typically, however, named beneficiaries can keep all of the life insurance proceeds.
If You Are Not a Co-Signer: If your spouse or family member passed away and you are not a co-signer on the credit card, you do not have to pay the bill. There is a special level of hell created specifically for credit card company executives who have their employees call and lie to bereaved widows asking them to pay the recently-deceased spouse's credit card bills, even though they are not required to do so.
Business Debts: Unless you are a business partner, most corporate debts are not payable from the decedent's estate unless they signed for the corporate card personally. Once you confirm the credit card debt is through the person's company, do not pay the bill.
Tenants By The Entirety: If you and your spouse owned a house together and your deceased spouse had the credit card debts, the credit card company cannot place a lien against the family house that you owned jointly as a married couple.
Remember to listen to what the credit card company's representative is saying over the phone. Many state "This is an attempt to collect a debt of a deceased person, and you may not be required to pay this debt." If there won't be a probate, let the creditor know and ask them not to call again. Once you tell the credit card company you are legally not required to pay the debt, they are required to cease contacting you. And, when all else fails, call an attorney who will know your rights.
DISCLAIMER: Attorney Advertising. Please note that prior results do not guarantee a similar outcome. This site and any information contained herein are intended for informational purposes only and should not be construed as legal advice. Seek competent legal counsel for advice on any legal matter.